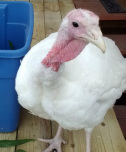 This (pictured left) is Ziggy "Two Toes". She was Ziggy Stardust but had an accident and lost the end of a couple of toes. This is a very cute and curious Turkey. This is part of the problem and a reason for one of the first rules of Homesteading or Prepping.
"Don't name your animals!"
Her story is a simple example.
We bought some chickens and a couple of turkeys for meat. We were all excited to grow our own meat, without hormones, antibiotics, etc... they would be fed the finest food and allowed to forage. They would be free range and orchard/ pasture raised. We had great intentions. They grew big and strong looked great. All was going as planned.
One day my wife said she was thinking of naming the turkeys.
I said I had already named them... "Thanksgiving and Christmas!"
She was not amused and went about the chores she was working on.
A few days go by, we are working on some chores and my wife says,
"I have their names all figured out... That one is Tom, 'Major Tom' and the other is Ziggy 'Ziggy Stardust'! You know David Bowie!"
I said "I thought they were Christmas and Thanksgiving!?"
She said "Look how cute they are! They even know their names."
She called out to Ziggy and of course Ziggy replied with a turkey noise. A noise that can only be described as the sound a car alarm makes when set.
Well that was it.
Now, we had not only lost our Thanksgiving and Christmas dinners; We had 2 more mouths to feed! I thought, "No body's killing any Turkeys this year, or beyond, they are talking back, now. Great!'
Moral of the story. "Don't name your animals!" If you do, you may never be able to get the nerve to put them in the freezer. Of course, you are also, feeding the turkey for longer than they were supposed to even live spending more than you planned. What should have been an inexpensive investment to a healthy and massive holiday feast has just started following you around the farm. Next thing you know, you are talking to them in their language. Then, you are out buying turkey for the holidays from the grocery store.
There are many 'rules' and 'words to live by' I've learned or experienced here on the Frost Farm. This one may not be number one or the most important but, it is dear to my heart.