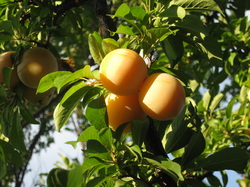 Frost Farm is primarily an Apple Orchard, Established in 1956, with Apples, Pears, Peaches, and Plums. Due to occasional years without fruit we have expanded the operation to include sweet corn, pumpkins, tomatoes, asparagus, strawberries, and other vegetables for the farmers market.
We are also, proud to be providing pasture (orchard) raised, free range, hormone and antibiotic free chicken (and duck) eggs to our local community. What started as a dozen 'girls' has grown into a full fledged flock of over 40 'girls' running around, eating bugs, taking dirt baths, having fun, and providing dozens of wonderful eggs every week.

---
Happy Chickens Make Happy Eggs!
Click link below for access to our resident artist's Fine Art America page: